BIRTH OF A NEW KIND OF DELIVERY
With its award winning design; Vertical Birthing Chair services to the comfort of the doctor, mother and the baby while brining good news of more enjoyable deliveries without any pain, cuts or tears.
Adjustable as required in all stages of the birth.

When the mother desires to sleep, squat or push the baby; can easily reach the most appropriate position with the push of a button.

Arm supports continue to preserve their parallel stance while the backrest moves.

Footrest sections are adjusted to squatting position with a push of a single button.

The backrest can be adjusted to 90 degrees for the comfort of the mother and the baby.

Point of the arm supports are thought as hand support bars and designed for ergonomics of the hand.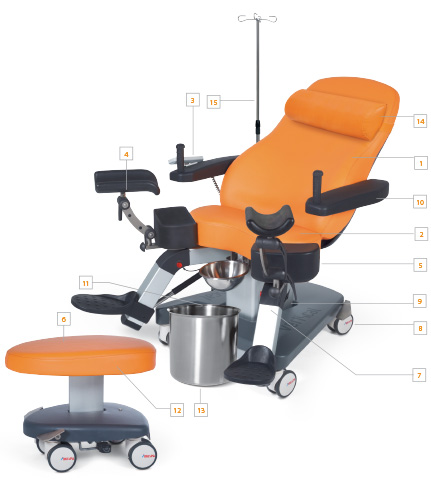 Massage feature on the back of the chair provides a deep relaxation with vibrations and heating on pelvic section.

Relaxed pelvis will accelerate the delivery of the baby and risk of episiotomy will decrease significantly.

With special design of aluminum column which can be adjusted between 70 and 90 cm, the chair preserves its stability even at the highest level

With leg suspenders lithotomic position become suitable if necessary. Therefore, classical birth becomes possible.

Mobile leg extension unit can also be used as doctor seat if necessary. When needed it is easily be converted to the delivery bed.
vertical birthing chair
BACKREST

Adjustable backrest for 0-90°
Massage system
Ergonomic design

SEATING

Heating surface
Massage system
14° trendelenburg and
reverse trendelenburg
movement

CALF SUPPORT

Acrobat calf Support
* optional

LEG SUPPORT

Sliding upper
leg support

FOOTREST SECTION

Footrest sections with
200 mm up and down
movement

ADJUSTABLE POSITION

Legrest adjustable to 30°
right and 30° left with
6 steps and legrest position
change button

LOCKING SYSTEM

Central locking system
that can lock 4 wheels at
the same time.

ADJUSTABLE COLUMN

Height adjustable
column between
70 cm - 90 cm

ARM SUPPORT

Arm supports that continue
to maintain their parallel
stance and handle bars
appropriate for hand ergonomics.

LEG EXTENSION

GMobile leg extension unit
which can be also used as
a doctor seat if necessary.